Ooru Organics
TANSY ESSENTIAL OIL
Soothing powerful thanks to its chamazulene content, this blue oil is known to relieve itching, irritation, and discomfort of the skin. In aromatherapy, it is recommended as an accompaniment in case of small allergies
ID CARD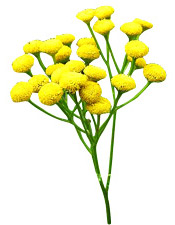 Method of obtaining..........................Complete distillation by steam entrainment
Part of the extracted plant.................
Flowering tops
Botanical name..................................
Tanacetum annuum
Botanical family...................................
Asteraceae
Quality
Botanically and Biochemically Defined Essential Oil 
100% pure

 (free from other nearby essential oils)

100% integral

 (not discolored, not deterpenated, not rectified, etc.)

100% natural

 (not denatured with synthetic molecules)
Cosmetic and well-being ingredient
Native country................................
Morocco
Culture

Other names
Blue chamomile, Moroccan chamomile, Blue tansy
Presentation
Amber glass bottles with reducer and cap
QUALITY
Production date
October 2018 (lot 18HE0306) and October 2018 (lot 19HE0274)
Use preferably before the end
October 2022 (lot 18HE0306) and October 2022 (lot 19HE0274)
On the label, the lot number is followed by a letter indicating the packaging series.
Organoleptic properties
- Appearance: clear, fluid and mobile liquid
- Color: indigo blue
- Odor: powerful, herbaceous, with floral and fruity notes
Density......................
0.910 - 0.925
Flashpoint..................
49 ° C
Composition
Main biochemical constituents - Gas phase chromatography of lot 18HE0306  :
Monoterpenes:

 

sabinene (16.57%), beta-pinene (3.53%), para-cymene (5.98%)
Sesquiterpenes:

 

chamazulene (12.48%)

Ketones:

 

camphor (16.35%)
Main biochemical constituents - Gas phase chromatography of lot 19HE0274:
Monoterpenes: sabinene (15.32%), beta-pinene (2.88%), para-cymene (5.61%)

Sesquiterpenes: 

 

chamazulene (13.14%)

Ketones: camphor (16.02%)
Storage conditions
Essential oils are sensitive to UV radiation as well as to the progressive evaporation of their constituents. It is therefore imperative to store your essential oils in colored glass or aluminum bottle with a tight seal at a temperature between 5 ° C and 40 ° C.
Precautions
- Do not use during pregnancy and breastfeeding, nor in children under 6 years, epileptic subjects, and the elderly. Contains ketones with neurotoxic and abortion risk.
- No internal use, do not ingest.
- Use in low doses and for a limited time.
- Estrogen-like action possible, not recommended in case of mitosis or hormone-dependent cancer (breast, ovary, endometrium).
- Diffusion and inhalation not recommended, the skin is preferred for this essential oil.
- Certain natural compounds contained in this essential oil can present a risk of allergy in certain sensitive people when the essential oil is incorporated in a cosmetic composition: limonene.
- As a general rule, always make an application test of your preparation, in the crease of the elbow, at least 48 hours before using it.
- Dangerous. Observe the precautions for use.
- Can cause skin allergy. May be fatal if swallowed and enters airways (if the product is accidentally swallowed, do not induce vomiting). May cause damage to organs. Toxic to aquatic organisms causes long-term adverse effects (in case of massive discharge of the product into a watercourse).