Ooru Organics
GUARANA POWDER
Rich in caffeine, theobromine, vitamins, and trace elements, Guarana has recognized stimulating and toning properties. This Amazonian powder is the ally of slimming and firming treatments. Its richness in caffeine gives it its traditional use to fight against temporary tiredness and to give a boost to athletes. 

ID CARD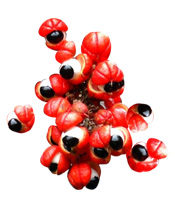 Method of obtaining.......................Dried Guarana seeds crushed into powder.
Part of the extracted plant.............
Seeds
Botanical name...............................
Paullinia cupana
Botanical family..............................
Sapindaceae
Quality
Guarana BIO 100% pure and natural, non-irradiated powder. Cosmetic and food quality. The dosage of heavy metals is a strictly controlled parameter, guaranteeing the quality of our Guarana powder.

INCI designation
Paullinia cupana seed powder.
Presentation
Fine brown powder with a characteristic vegetable odor, slightly earthy.
Active constituents
caffeine: stimulating, lipolytic

tannins: antioxidants and astringents

vitamins
Precautions
- Powdery product, do not use near a source of ventilation.
- It is advisable to use a mask and glasses when handling the powder.
- Avoid contact with eyes; in case of contact, rinse thoroughly with clean water.
- Keep out of reach of children.
- This powder is very active. We advise you to always do a test in the bend of the elbow 24 hours before application.
- Due to its high caffeine content, guarana should not be used in children and pregnant or lactating women.
- Due to its high caffeine content, it can cause insomnia or delay falling asleep, so it is recommended to take it at the start of the day and to consume it in low doses.
- The consumption of Guarana is not recommended for people who are insomniac, nervous, suffering from gastric or duodenal ulcers, high blood pressure, and cardiovascular disorders.
- Guarana is a diuretic, it should not be combined with other drugs or substances having the same effects so as not to amplify them. It is recommended to drink a lot to compensate for the loss of water.
- Guarana is exciting and should not be combined with other substances with stimulating effects (caffeine, ephedrine ...), which could prove harmful to the body and lead to nervousness, insomnia, and exhaustion.
- People consuming guarana for its anti-fatigue effects (sports) should not take more than three times a week so as not to cause addiction.