Ooru Organics
GINSENG POWDER
Brazilian Ginseng, also known as Suma or Gomphrena, is a plant traditionally used as a tonic, powerful adaptogen and aphrodisiac for a very long time by the populations of the Amazon. In cosmetics, its richness in saponins, vitamins, and trace elements makes it an active ingredient of choice to fight against hair loss and stimulate hair growth. Due to its antioxidant and allantoin content, it is also an excellent ingredient for caring for tired skin, lacking in radiance, subject to stress or pollution.
ID CARD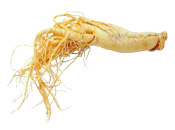 Method of obtaining
The 2-year-old roots are harvested manually, cleaned, sorted, and roughly cut, then dried and powdered. 
Part of the extracted plant.............
Roots
Botanical name...............................
Pfaffia Paniculata
Botanical family...............................
Amaranthaceae
Benefits and properties................Anti-aging, Illuminating, Refreshing
Quality
100% pure and natural, to guarantee optimal microbiological quality. Unirradiated, non-ionized powder.
Native country.............................
Brazil
Other names................................
Suma, Gomphrena, Hebanthe paniculata, para tudo, para toda
INCI designation..........................
Pfaffia paniculata root powder
Presentation
Powder packed in zipped and sealed doypack
Main active ingredients
Amino acids

Vitamins A, B1, B2, B5 (pantothenic acid), E

Trace elements and mineral salts (Zinc, Magnesium, Iron)

Beta-ecdysone, stigmasterol, sitosterol and its glycosides, allantoin

Pfaffic acid, saponosides (pfaffosides)
QUALITY
- Appearance: powder
- Color: beige, with small black grains
- Odor: evoking the root, slightly bitter and spicy
-  Taste: characteristic, evoking the root, bitter and slightly spicy
Precautions
- Powdery and irritating product, do not use near a source of ventilation.
- It is advisable to use a mask and glasses when handling the powder.
- Avoid contact with eyes; in case of contact, rinse thoroughly with clean water.
- Keep out of reach of children.
- This powder is very active, we advise you to always do a test in the crease of the elbow 24 hours before application.
- This powder is very active,  use it always diluted in other powders (clays, rice powder, colloidal oat powder), for application on the skin.
- If you experience a tingling or heating sensation, stop the application immediately and rinse off with clean water.
- The consumption of Brazilian Ginseng is not recommended during pregnancy and lactation.
- This powder is likely to have an "estrogen-like" effect, as a precaution its consumption is not recommended in the event of a history of hormone-dependent cancer (breast, ovary, endometrium).
- For uses in herbal medicine, ask a doctor for advice.